Name: Luna.
Age: 14 years
Photo of you/only if you want: http://i49.tinypic.com/28cq0jk.jpg
Hobbies and other interests:riding, skiing, old rock,
writing, etc...
Favourite band/artist: http://www.last.fm/user/KillingTheTeddy
- Take a look.
Favourite album and song: A lot, I can't decide.
Favourite Guns member: All them but my favs are Axl Rose,
Duff and Slash.
Favourite Guns song/and album: Can't choose one.
Favourite picture of Guns: I've got a lot, it's hard to
choose one.
Favourite movies and actors: A lot.
Something else you want to say: I'm obsessed about vampires
and I'm still a child. I do believe in ghost stories and I dislike to sleep.
Current Location:

Romania, Turda

Current Mood:

curious

Current Music:

Guns N' Roses - Mr Brownstone.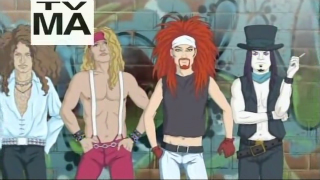 Please only watch if you have a sense of humour. ._.; Metalocalypse is pretty much the Spinal Tap of the black metal genre. This episode parodies most bands of the 80's but Guns n' Roses specifically.
Anyway--download
here
, enjoy, comment if you're taking, etc. x)


I'm wondering for a simple reason--I was thinking of uploading Slash and the AI crew performing School's Out (which isn't too spectacular, but it's Gn'R related) as well as all of the episodes of Sober House since youtube takes 'em off. There's also a few Guns n' Roses parody episodes from Metalocalypse that are hilarious and I'd like to share it with people.

The only thing is, since my last post once upon a dinosaur's age got no comments, I'm not even sure if this place is alive.

Is anyone interested?
Is this community dead or not?
Current Mood:

calm

Current Music:

Was (Not Was) - Everybody Walk the Dinosaur
Current Mood:

nervous
Axl Rose and Guns N' Roses have recruited Sixx:A.M. guitarist DJ Ashba for their "upcoming tour," the band announced in a press release issued Saturday, March 21st.
"DJ's a gifted, energetic guitarist that Guns n' Roses is proud to have on board!" Axl Rose said of his new axeman in an exclamation-point-packed statement."We're very excited to have the opportunity to work together."
MORE
What do you think?
Current Mood:

pensive

Current Music:

One in a million
Current Mood:

good

Current Music:

What is and what should never be- Led Zeppelin
Current Mood:

cold

Current Music:

Twisted Sister - The Price